Covid-19 Update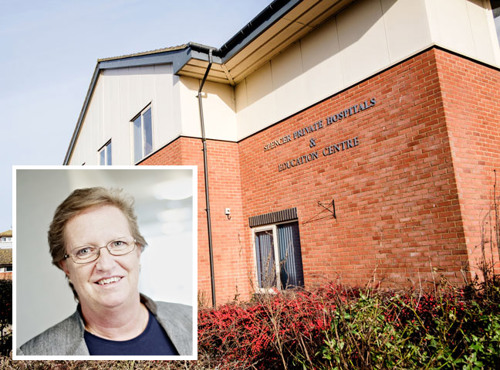 A message from Di Daw, CEO
This current period remains a testing time for all and will naturally mean we will have to make some changes to the way that we provide our services, particularly our assessment services. We want to support you to take good care of yourself as well as those around you in addition to keeping our staff as safe as possible.

We at Spencer Private Hospitals are delighted to continue in partnership with EKHUFT, supporting the NHS in it's recovery from Covid-19, with the provision of treatment for all patients and are now in the process of making arrangements to re-establish our elective surgery lists in addition to the NHS elective surgery lists and other treatments.

We continue to support the NHS with the provision of all our resources including our bed capacity and shared care through our clinical teams. Our priorities remain patient safety, staff safety and provision of the highest quality care to all patients who we welcome to our hospitals for treatment.

Your continued support and understanding means a great deal to us. I would also like to thank all our supporters, patients present and past for their kind words of encouragement to our staff.
Please bear with us as we go through this phase of transformation and recovery as we go forward into the future.
Di Daw
CEO Spencer Private Hospitals
Appointments
As part of the national requirement to deliver services safely the majority of outpatient appointments will be conducted remotely. Please don't be alarmed if your appointment is conducted via telephone or teleconference. 
We will be in contact with any patients who are suitable for telephone consultation to discuss plans for their appointment. For onsite appointments we advise a minimum distance of 2 meters is observed where practicable and expect all visitors to our hospitals to comply with this directive.
If you have a booked appointment and are displaying any symptoms of Covid-19 we ask you not to attend the hospital and contact NHS 111 for advice.
If you have not heard from us, and you are symptom free, please contact us on 01843 234555 or attend your appointment as normal.
Visiting our Patients
Due to the current situation and government guidelines, visiting times have been suspended until further notice. Spencer Private Hospitals will do everything they can to ensure patients can contact their loved ones and would suggest telephone and face time apps are used as an alternative.
Contacting Us
We are currently experiencing a higher than usual level of calls. Where possible please refrain from calling and make use of our contact pages available via our website.
Note: If you have recently returned from abroad, are symptomatic or have been in contact with anyone that is symptomatic, please do not attend your appointment. Instead stay home and contact the hospital to let us you know you will not be attending, details can be found below:
Call 01843 234 555
Choose option 3 for Main Reception 
Choose from the following three options, depending on where your appointment is
Option 1 - Ashford
Option 2 - Margate
Option 3 - Canterbury
The response to the pandemic is changing daily, further updates will be provided on our website.
Whatever lies ahead, we would like to thank everyone for their continuing hard work keeping our hospitals open and our patients, staff and loved ones safe.
Last updated 30/09/20 16.25pm