Covid-19
*This page was last updated 09/12/21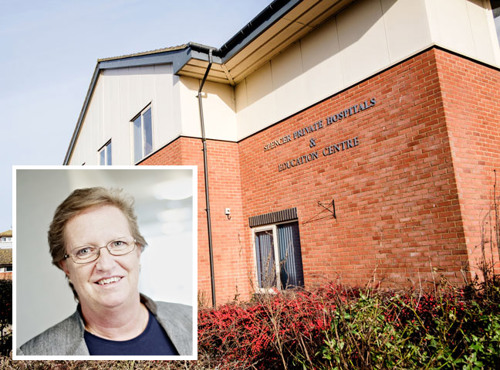 A message from Di Daw, CEO
This current period remains a testing time for all and means that we have to continue with some changes to the way that we provide our services, particularly our assessment services. We want to support you to take good care of yourself as well as those around you in addition to keeping our staff as safe as possible.
We at Spencer Private Hospitals are delighted to continue in partnership with EKHUFT, supporting the NHS in its recovery from Covid-19.
Spencer Private Hospitals are re-establishing elective surgery lists in order to return to previous levels of private patient care as well as continuing other treatments including NHS work.
Our priorities remain patient safety, staff safety and, provision of the highest quality care to all patients who we welcome to our hospitals for treatment.
Your continued support and understanding means a great deal to us. I would also like to thank all of our supporters, patients present and past for their kind words of encouragement to our staff.
Please bear with us as we go through this phase of transformation and recovery and go forward into the future.
Di Daw
CEO Spencer Private Hospitals
Surgery
Surgeries have now restarted and those patients on our waiting list will be contacted by a member of the bookings team to ensure any cancelled surgeries are rebooked as soon as possible. While there is currently a waiting list please contact the customer services team by emailing bookings@spencerhospitals.com if you wish to arrange a consultation and they will be happy to explain the current waiting times.
Appointments
In order to continue to focus on patient and staff safety where possible some outpatient appointments will be conducted remotely. Please don't be alarmed if your appointment is conducted via telephone or teleconference.
We will be in contact with any patients who are suitable for a telephone consultation to discuss plans for their appointment. For onsite appointments, we advise a minimum distance of 2 metres is observed where practicable and expect all visitors to our hospitals to comply with this directive.
Please do not bring a friend or relative with you when attending your appointment. It is essential we limit the number of people in all our clinical areas to reduce the risk of
transmission. One parent or guardian is required to accompany a child, and one person may accompany an adult who is deemed to be vulnerable.
It is imperative to promote safety and maintain access so that patients with compromised mobility can be dropped off outside our entrances if a lay-by facility is available. The layby facilities are not designated waiting areas and therefore parking is available on site and must be used while attending appointments at our hospitals.
If you have a booked appointment and are displaying any symptoms of Covid-19 we ask you not to attend the hospital and contact NHS 111 for advice.
If you have not heard from us, and you are symptom-free, please contact us on 01843 234555 or attend your appointment as normal.
Visiting our Patients
Due to the current situation and government guidelines, visiting times have been suspended until further notice. Spencer Private Hospitals will do everything they can to ensure patients can contact their loved ones and would suggest telephone and face time apps are used as an alternative.
NHS Test and Trace App
People across England and Wales are being urged to download the NHS COVID-19 app to help control the spread of coronavirus and protect themselves and their loved ones.
It is an important tool to work alongside traditional contact tracing to help reduce the spread of the virus. It is available to those aged 16 and in multiple languages. It forms a central part of the NHS Test and Trace service in England and the NHS Wales Test, Trace, Protect programme – identifying contacts of those who have tested positive for coronavirus.
The contact tracing element of the app works by using low-energy Bluetooth to log the amount of time you spend near other app users, and the distance between you, so it can alert you if someone you have been close to later tests positive for COVID-19 – even if you don't know each other.
The app will advise you to self-isolate if you have been in close contact with a confirmed case. It will also enable you to check symptoms, book a free test if needed and get your test results.
The app has been designed with user privacy in mind, so it tracks the virus, not people and uses the latest in data security technology to protect privacy. The app does not hold personal information such as your name, address or date of birth, and only requires the first half of your postcode to ensure local outbreaks can be managed. No personal data is shared with the government or the NHS.
Spencer Private Hospitals have a QR Code at the entrance of our hospitals and departments that you scan with the NHS app.
Long Covid Screening Clinic at Margate
Long Covid (also known as Post-Covid Syndrome) is a newly discovered post-viral long-term condition suffered by some patients who previously contracted Covid 19. The effects of coronavirus for some people can be felt weeks and even months after the infection has passed. Recovery time will differ from patient to patient depending upon presenting problems and condition can impact patients in multiple ways including (but not limited to) breathing difficulties, fatigue, chest pain and tightness as well as abdominal pains.
Spencer Private Hospitals have worked with our consultants to create a Long Covid screening clinic in order to help patients quickly back on their path to recovery. Specialist appointments with our expert consultants will provide patients with bespoke in-depth advice to promote self-management, recovery, after care and also advise on onward referrals to further specialisms if required. Additionally, patients may be advised to undertake further tests including chest x-rays, echocardiograms (ECG) and spirometry in order to fully compliment the appointment.
You can find more info here.
Contacting Us
We are currently experiencing a higher than usual level of calls. Where possible please refrain from calling and make use of our contact pages available via our website.
Note: If you have recently returned from abroad, are symptomatic or have been in contact with anyone that is symptomatic, please do not attend your appointment. Instead stay home and contact the hospital to let us you know you will not be attending, details can be found below:
Call 01843 234 555
Choose option 3 for Main Reception 
Choose from the following three options, depending on where your appointment is
Option 1 - Ashford
Option 2 - Margate
Option 3 - Canterbury
Further updates will be provided on our website.
We would like to thank everyone for their continuing hard work keeping our hospitals open and our patients, staff and loved ones safe.