Consultant Profile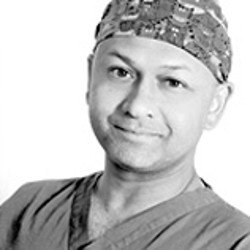 Dr Rana Das-Gupta MBBS (Lon), FRCS (Eng), Eur Dip Plast Surg
Practising at: Margate
Specialties: Plastic Surgery
Special clinical interests: Breast surgery and all aspects of cosmetic surgery.
Research interests: Mr Das-Gupta has publications on breast, ear, trauma and facial surgery.
Current NHS and /or university posts: University Hospitals Coventry and Warwickshire NHS Trust Stratford upon Avon Hospital George Eliot Hospital Warwick Hospital
Year of first medical qualification and medical school attended: 1985
Current membership(s) of professional, national and regional bodies: British Association of Cosmetic Surgeons British Medical Association Royal Society of Medicine (Plastic Surgery) Royal College of Surgeons (England)
Background Information
Rana was born and educated in London and trained as a doctor at The Royal London Hospital and has run a private consultant practise in cosmetic surgery in Harley Street. Prior to taking up an NHS consultant position in Plastic and Reconstructive Surgery in Warwickshire, he has held training positions at many of the famous plastic surgery units in London, including Mount Vernon Hospital, UCH, Queen Marys Roehampton, Wexham Park, and Stoke Mandeville Hospitals and has held senior positions in plastic surgery in Denmark, Chester and Norway. He was indeed a substantive NHS (equivalent) Consultant in Norway for several years prior to returning to the UK.
Mr Das-Gupta completed clinical fellowships in cleft surgery, craniofacial surgery and hand surgery. He also had the opportunity, during his registrar training, to assist many of London's leading cosmetic surgeons in their operating theatres. Mr Das-Gupta is committed to attending international meetings to keep abreast of best practise within the speciality.
He has appeared frequently in the media as a plastic surgery expert, including: GMTV, London Tonight, The Gloria Hunniford Show, The Mail on Sunday, News of the World, The Sun, The Daily Mirror, The Daily Express, Woman Magazine and many other media articles related to cosmetic surgery.
He offers the full spectrum of cosmetic and reconstructive plastic surgery and has recently published papers on the latest techniques in breast reconstruction, in the British Journal of Plastic Surgery.