Breast Implant Removal
Our specialists at Spencer Private Hospitals
Breast implant removal is a specialist surgical procedure that focuses on removing any breast implant material entirely. This reshapes the breasts and without additional surgery to correct the tissue and adjust it to the lack of implant, the breasts can appear quite deflated.
Our specialists are ready to speak with you concerning an initial consultation and moving forward with the procedure.
If you would like to begin the path to breast implant removal surgery, call and book an appointment with our specialists on 0800 882 4879.
If you'd like to get some more information first, try clicking or tapping on one of the links below to jump to the section you want to learn about, or simply keep reading:
Who is Breast Implant Removal Surgery for?
What is the Procedure for Breast Implant Removal?
Is There Any Scarring after Breast Implant Removal?
What is the Recovery Process for Breast Implant Removal Surgery Like?
Who is Breast Implant Removal Surgery for?
Patients who undergo breast implant removal surgery may do so for several reasons:
a desire to no longer have breast implants due to no longer wishing for the enlargement or reshape
removal in preparation for different implants
removal in preparation for an implant revision procedure
a rupture in the implant that needs correcting
skin deformity over time
calcium build up
infection
bleeding
necrosis (dead tissue build up)
complications with breast cancer
Is There Any Scarring After Breast Implant Removal?
As with all breast implant surgery, there will be resulting scar tissue after the procedure, though of course we aim to minimise the cosmetic effects of this. Every patient is different, but generally, patients can expect red-coloured scarring initially, which will then change to purple, eventually fading to a much paler tone over a period of a year to eighteen months. In some cases, scars may become more prominent or painful, in which case further surgery may be required to mitigate this.
If you are removing the implants without replacing with another pair, then it is very likely that the breast tissue will appear deformed or "deflated" due to the loose tissue and skin not correcting itself post-removal. Similarly, if you are replacing the implants with a larger set, then you may see some skin stretching scars as the tissue adjusts to the new shape and size.
We aim to take our patients through a consultation procedure with our specialists, to find out more about their bodies and likely outcomes from breast implant removal. These consultations are vital to minimising risk or further need for corrective surgery in future. If in doubt, our specialists are happy to speak with you to make you fully aware of expected outcomes and address your concerns.
What is the Recovery Process for Breast Implant Removal Like?
Our staff will be on hand to check up on you before, and at intervals after your surgery. In most cases, patients can get out of their hospital bed on the same day as their procedure, but sometimes we recommend patients stay overnight.
Generally, we recommend avoiding strenuous activities such as sports, heavy lifting or high-impact exercise for a few weeks. For extra safety, even general housework should be avoided, and you should expect that time off from work will be necessary or working from home if you are able.  Extra care should be given to other tasks such as driving (stretching to grab a seat belt may cause aches, for example), so start gently. Our team will ensure you are fully equipped with the knowledge to recover and make you aware of any possible complications specific to your procedure.
How to Make an Appointment with Us
Making an appointment with Spencer Private Hospitals is easy, and our helpful staff will take care of all your needs. We pride ourselves on giving our patients a high level of service and comfort.
You may write to us using our online contact form, or alternatively call one of our hospitals using the phone numbers below to begin your knee treatments at a time and place most suitable to you.
Ashford
01233 616201
Margate
01843 234555
Our Facilities and Amenities
If it is necessary for you to stay with us during any step of your diagnosis or treatment, Spencer's care extends beyond our consultants' rooms.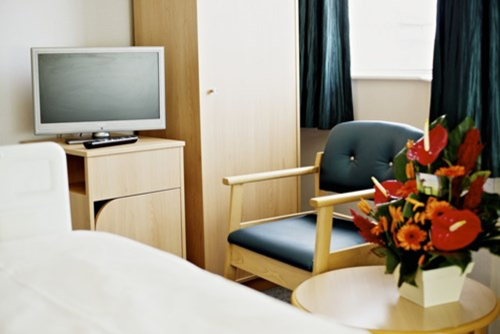 Each private room comes with:
Its own comfortable bed and extra seating
Television
Menu choice of food
En-suite facilities