Altruist Sunscreen now available
Date: 08/11/2016
We are delighted to announce that Altruist Sunscreen is now available at Spencer Private Hospitals. The sunscreen has been produced by one of our leading Dermatology Consultants, Dr Andrew Birnie.
It has a broad range of photostable UV filters, including the most advanced filter available Tinosorb A2B, to ensure that quality protection is provided across the whole UVA/UVB spectrum. This effective mixture results in an SPF of more than 50, with ultra, 5 star, UVA protection.
No stickiness
Dermatologically and clinically tested
Recommended by UK dermatologists
Your purchase supports children with albinism in Tanzania Fabulous cosmetic feel – easily absorbed, non-sticky and no residue
Suitable for daily use on the face and body
Excellent tolerability (suitable for sensitive skin)
Hypoallergenic formulation
Fragrance, alcohol and paraben free
Water resistant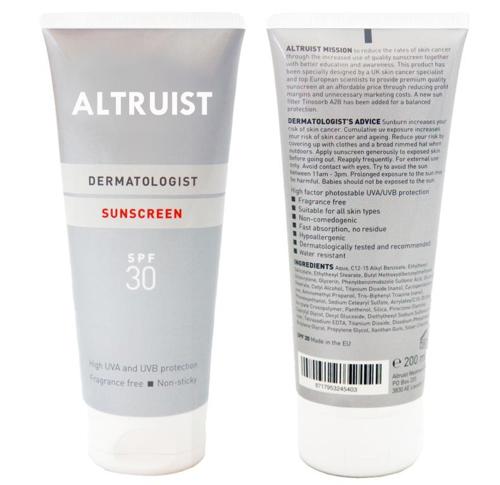 ALTRUIST supports 'Under The Same Sun' a charity supporting children with albinism in Tanzania and the rest of Africa. We believe everybody should have an equal opportunity to be protected from the sun. With each tube purchased we will donate 10p. You can help children with albinism in Africa.
With its scorching hot sun, the tropical climate of Tanzania puts people with albinism at a high risk for developing skin cancer at an early age. 100 per cent of children with albinism in Tanzania show signs of sun-related skin damage by the age of 10.
Their mission is "To reduce the incidence of skin cancer through increased use of quality sunscreen together with better education and awareness. This sunscreen has been formulated to be acceptable to all skin types and is paraben- and fragrance-free."
The cost of a 200ml tube is £5. The sunscreen is available at both Margate and Ashford reception.