Keeping Your Heart Healthy - With Dr James Rosengarten
Date: 14/12/2017
It can be difficult to navigate through all the information in the media, but here are some simple pointers to encourage you in the right direction towards a healthy heart.
Healthy Eating
A healthy diet can help reduce your risk of developing coronary artery disease and irregular heart rhythms. Often these are made worse by high blood pressure and diabetes, both affected by diet.
Everyone should aim for a balanced diet, containing the balance of nutrients you need. Highly restricted diets are often limited in nutrition, and have very little science to support them. It is clear that processed foods and refined sugars are damaging, and a plant based diet can be very beneficial. Fats and oils from natural sources are better than processed "trans-fats". A diet abundant in fresh fruits and vegetables should be the basis of your eating, and meat and fish are fine as part of a balanced diet with sensible portions. We often think about the "Mediterranean diet" as being a good guide for a healthy heart.
Alcohol
Alcohol is unlikely to be harmful in modest amounts. Current guidelines recommend no more than 14 units of alcohol each week. Most people don't drink regularly, so if you do, it is important to have some days off, and spread your drinking over the rest of the week. For some individuals, alcohol can be a trigger for irregular rhythms even at a low amount, and if you notice an association it is time to rethink!
Smoking
Quitting smoking is the single best thing you can do for your heart health. Smokers have twice the risk of a heart attack compared to a non-smoker. This will not be news to you! Giving up smoking is not easy, and it is important to realise that there is help available from a variety of sources. Talk to your pharmacist about what can be done.
Staying Active
Physical activity can help reduce your risk of heart disease, as well as controlling your weight, reducing blood pressure and cholesterol, and improve your mental well-being. It is amazing that 1 in 4 of us are classed as physically inactive, meaning that we do less than 30 minutes of physical activity a week! We should be aiming for 150 minutes of moderate intensity activity, in bouts of 10 minutes or more, each week. This can include walking, gardening, hiking, dancing, cycling or swimming. The important thing is to find something you enjoy! Events, such as parkrun, are an excellent way to join in and keep motivated!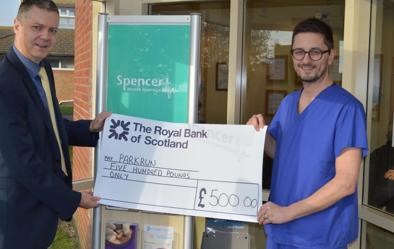 (Above: Dr James Rosengarten led the fundraising for an Automated External Defibrillator - AED)
Stress
We all have different ways of coping with stress, and although it is not a direct risk factor of cardiovascular disease, it's possible that it may contribute to your risk level. If you have conditions such as angina or palpitations, stress can become a trigger. It is important to cope with stress, often through staying active and eating sensibly, and learn how to relax without resorting to smoking and alcohol.
What if I am worried about my heart?
If you have a strong family history of heart disease, or have developed symptoms that worry you, talk to your doctor. If you still need reassurance, Spencer Private Hospitals offer a variety of nurse run health screening appointments, or you can book in to see Dr James Rosengarten. Click here to view his profile, or book via telephone on 01227 250324, or via email or online booking.
Getting in Contact / Make Your Appointment
If you would like to get started with booking an appointment or if you would like to ask us a question about the health screening, you may do so by Visiting our Contact Us page. There you'll find phone numbers, hospital addresses and a contact form. Alternatively, there is a contact form found at the bottom of the page.