Spencer Private Hospitals celebrate First anniversary at Ashford
Date: 30/03/2017
Spencer Private Hospitals based at the William Harvey Hospital, Ashford celebrated the first anniversary of their Outpatient Consulting Suite. The hospital was joined by companies that have supported them along the way such as Sagittarius Marketing, Hearbase and also Paediatric Consultant Dr Ola Smith.
Di Daw, CEO at Spencer Private Hospitals has said "Our Company's vision is to be recognised as the private provider of choice in East Kent. The year anniversary shows the company is going from strength to strength and we continue to strive in achieving our goal.
In addition, the new facility has enabled us to collaborate with highly qualified companies and individuals who are all experienced in the private healthcare sector.  I would like to thank the staff for all their hard work and Consultants for their continued support."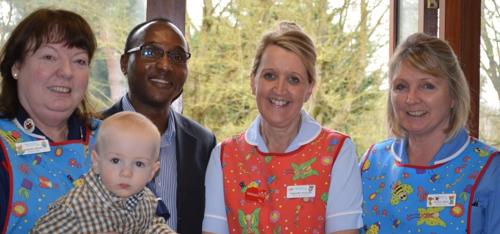 The facility has five Consulting Rooms, a treatment room and audiology services. We are also able to offer outpatient Physiotherapy.
Spencer Private Hospitals are able to offer outpatient appointments in all of the major specialities including Ear Nose and Throat, Maxillo Facial, Dermatology, Ophthalmology, Gynaecology, Paediatrics, Allergy, General Surgery, Urology, Pain and Orthopaedics.
At Spencer Private Hospitals we pride ourselves on our exemplary standards of cleanliness and excellent infection control rates.
Due to the location of the site, patients have full access to the treatment and operating facilities offered by the associated Foundation Trust Hospital. This affords patients and their families the unique reassurance and support that Foundation Trusts offer - an environment not enjoyed by most other private providers.