Microdermabrasion: When the Usual Post-Summer Treatments Aren't Enough
Date: 10/11/2017
Sun, Sea and Sand!
A holidaymaking summer-lover's favourite three words… Unfortunately, the same can't be said for your skin. It's not really a fan of all that, it must be said.
Summer brings about some of the harshest punishment your skin will go through, and while there's nothing wrong with a few days here and there of soaking up the sun and taking a dip, sometimes special care needs to be given to rejuvenate and bring your skin back to tip-top condition. If you've partaken in a particularly high amount of summer strain, sometimes the usual post-summer skin creams and facial masks won't be enough to repair the damage inflicted upon your exposed epidermal layers.
What counts as a "high amount of summer strain"? Typically speaking, repeated exposure to UV in a relatively short time, more than 3 hours exposed to the sun in any given day (even with sun lotion applied), prolonged time in the ocean or especially in chlorine-treated swimming pools… basically any lengthy period of time in which you might partake in usual summer activities! Not to mention the various indulgences like excess alcohol and food/confectionary.
We are all different, and so each of us may find that our skin reacts differently to these applications, be they purposefully induced or a side effect of a fantastic holiday. With that in mind, you might find that your skin is perfectly fine after repeated sunbed trips, or hours and hours of lying in the sun (or floating in the ocean). On the other hand, you might have caught yourself noticing something a little off with the condition of your skin, even with your usual post-summer rehab routine. An abundance of blemishes, dead skin or fine lines might be cropping up, especially if you've experienced quite a few summers (we do all naturally accrue lines and blemishes from ageing, after all), and it can be a big hit to our confidence to see these damaged areas appearing on our face or body.
There are plenty of over-the-counter treatments to keep on top of a post-summer skin routine, but sometimes it's just not enough. This where specialist treatments from medical professionals come in.
Microdermabrasion
Microdermabrasion is mostly used in cases where someone might wish to restore younger looking skin, but it is absolutely suited to assisting those with sun damage and other summer-inflicted conditions.
Microdermabrasion is a procedure in which a patient's skin is passed over by a hand-operated "wand" that uses a controlled flow of fine, medically graded crystals to gently loosen and vacuum away dead or weak skin on the uppermost epidermal layer.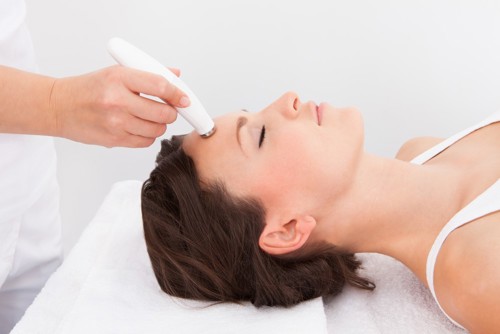 After the procedure, skin feels restored and rejuvenated – enhancing skin to be at its best – boosting your confidence and preparing you for the cold winter months ahead.
The benefits of Microdermabrasion include:
Suitable for most skin types – virtually anyone can undergo Microdermabrasion
No anaesthesia required
Very little pain or discomfort – you can request a lighter treatment if it's causing too much discomfort
Minimal risk – the procedure is completely non-invasive
Zero recovery time
You can see the full procedure being carried out here:
If you've got any questions about Microdermabrasion, post-summer skin rehab, whether or not you think you should consider Microdermabrasion, or to book a session for a glowing skin rejuvenating process, get in contact with us by calling 0800 882 4875, or sending an e-mail to enquiries@spencerhospitals.com.