Consultant Profile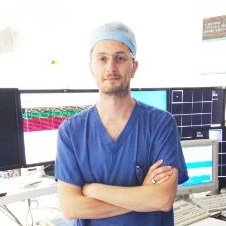 Dr James Rosengarten
MBBS DM MRCP
Online booking now available by clicking here. 
In addition to the common problems of chest pain and breathlessness, as a cardiac electrophysiologist I have a particular interest in patients with irregular heartbeats, palpitations, SVT, atrial flutter, fibrillation, and tachycardia. I am the only cardiologist in the region who offers curative ablation for these procedures.
In addition I manage patients who need heart monitors, pacemakers, ICDs and defibrillators. 
Book a Consultation
Practising at:
Ashford and Margate
Specialties:

Palpitations,Arrhythmia,Irregular Heart Rhythm,AF,Atrial Fibrillation,Atrial Flutter,SVT,AVNRT,WPW,PoTS,SCD,Sudden Cardiac Death,Defibrillators

Current membership(s) of professional, national and regional bodies:
British Heart Rhythm Society
British Cardiovascular Society
Background Information
I am a cardiologist with particular interest and expertise in cardiac rhythm management. I am passionate about delivering accessible healthcare, meeting the demands of the local population in East Kent and addressing the unmet needs of those suffering with highly symptomatic rhythm disturbance and patients at risk of lethal arrhythmia across the wider region.
My training has included many aspects of electrophysiology including diagnosis and catheter ablation of AV nodal and pathway mediated tachycardias, atrial fibrillation and ventricular tachycardia. I manage pacemakers and defibrillators, including implantation, follow-up, and troubleshooting, including extraction.
My research experience is in the use of novel risk stratification tools for sudden cardiac death, utilising biomedical engineering techniques, including artificial intelligence and machine learning, to identify serum protein, imaging and electrocardiographic biomarkers.
Book a Consultation