Consultant Profile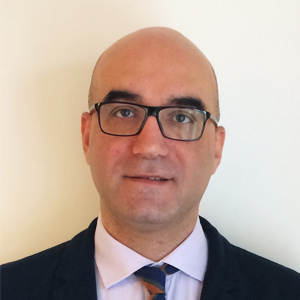 Mr Pejman Kheirandish
I graduated from Tehran Azad University in 1998. I started my basic surgical training in Lancaster in 2002 and became a Fellow of the Royal College of Surgeons in 2005. I have worked solely in the field of Urology at junior and middle grade levels since 2005. I performed formal research in phytochemical therapy and molecular oncology of prostate cancer at Barts Cancer Institute between 2010 and 2011. I moved to Yorkshire for specialist training in Urology in 2011 and was awarded the Certificates of Completion of Training (CCT) in 2016.
I made sure that my training was long and packed full of operations under supervision thus ensuring a well rounded, complete training in all aspects of general urology and specialised urological surgery.
In the final year of my training I concentrated more on learning Men's Health conditions (Andrology) such as infertility, erectile dysfunction, ejaculatory disorders, penile curvature and penile cancer . I was fortunate to be taught by some of the best Andrologists and penile reconstructive surgeons in the UK.
In 2016 I went to Western General Hospital in Edinburgh for a fellowship in Andrology and was appointed as Consultant Urological Surgeon at East Kent Hospitals University NHS Foundation Trust in April 2017.
I have a wide range of experience in managing different aspects of Urology including bladder symptoms, prostate disease, kidney stones, urinary tract infections and men's health issues.
Book a Consultation
Practising at:
Margate & Ashford
Specialties:

Urology

Special clinical interests:
Men's health issues such as male infertility, erectile dysfunction, ejaculatory disorders, penile curvature and penile cancer.

Kidney ureter and bladder stones.

Prostate enlargement (BPH), urinary symptoms both in men and women and urinary tract infection.
Research interests:
Investigations of blood in urine including Fiber-optic cystoscopy as a walk-in procedure and treatment of bladder cancer.

Raised PSA (Prostate Specific Antigen)

Bladder, kidney, bladder and testicular cancers

Diagnosis and management of penile and scrotal conditions such as testicular pain, lumps, scrotal swelling, vasectomy and tight foreskin .
Current NHS and /or university posts:
Consultant Urological Surgeon at East Kent Hospitals University NHS Foundation Trust
Year of first medical qualification and medical school attended:
Tehran Azad University in 1998
Background Information
Contact Details
Telephone Margate


01843 234 555 - Appointments
Private Secretary Name


Elizabeth Hollingsbee
Private Secretary Telephone


01843 234551
Private Secretary Email Address
elizabeth.hollingsbee@spencerhospitals.com
Book a Consultation