Consultant Profile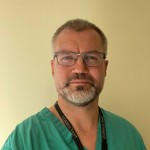 Dr Phillip Mayhead MBBS, MRCP, MSc
Practising at: Ashford
Specialties: Gastroenterology, Gastroscopy, Endoscopy, Inflammatory bowel disease, Diagnostics of GI Dysfunction, Advanced Endoscopy
Special clinical interests: Diagnostics of GI dysfunction
Inflammatory bowel disease
Functional GI disorders such as IBS
Advanced endoscopy (diagnostic and therapeutic)
Upper and Lower GI dysfunction
Small bowel disorders including capsule endoscopy
Assessment and management of liver dysfunction
Research interests: Dr Mayhead has been working as a Consultant Gastroenterologist for 12 years. The majority of this time, he has worked in East Sussex, having only recently moved to the Kent area. Dr Mayhead was a trainee in the South East of England before that, completing his training in Ashford. In 2001 he spent nearly 2 working in rural Australia.

Dr Mayhead has been a Bowel Cancer Screener for 6 years and examines for the National Bowel Cancer Program for aspiring screeners.

Dr Mayhead undertakes a wide range of endoscopic procedures including diagnostic and therapeutic gastroscopy and colonoscopy and biliary endoscopy to address obstruction from gallstones and tumours (ERCP). He is also able to offer capsule endoscopy for both the small bowel and colon.

Dr Mayhead believes in a friendly and proactive approach to the management of GI and liver related conditions and is happy to spend time working through a diagnostic problem to provide an explanation and management plan for the individual patient that gives an answer and peace of mind.
Current NHS and /or university posts: East Kent Hospitals NHS Trust
Year of first medical qualification and medical school attended: 1997 Kings College, University of London
Current membership(s) of professional, national and regional bodies: British Society of Gastroenterology
British Medical Association
Background Information