Consultant Profile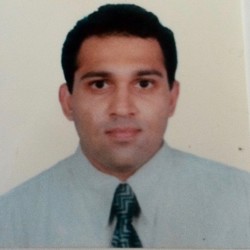 Mr Abhijeet Shah MRCOG, MBBS
Specialties: Sexual and Reproductive Healthcare, Gynaecology, Laparoscopy, Hysterectomy, Minimal Access Surgery
Special clinical interests: Laparoscopic excision of endometriosis.
Laparoscopic surgeries including hysterectomies.
Hysteroscopic resection of fibroid, polyps and septum.
Recurrent miscarriage management.
Current NHS and /or university posts: Consultant Obstetrician & Gynaecologist, William Harvey Hospital, EKHUFT, Ashford, Kent
Year of first medical qualification and medical school attended: Mumbai University, India 1999
Current membership(s) of professional, national and regional bodies: RCOG
BSGE
BSCCP
AAGL
GMC
Background Information
Mr Shah is a Consultant Obstetrician and Gynaecologist at the East Kent Hospitals University Foundation NHS trust and the lead consultant for early pregnancy problems and Gynaecology assessment unit at the William Harvey Hospital.
Mr Shah undertook his initial medical training (MBBS) at Mumbai University, India, graduating in 1999. He subsequently completed Obstetrics and Gynaecology training in South East/London Hospitals including a large proportion of training at Kings College Hospitals.
On top of this Mr Shah has received additional training in advanced laparoscopy, operative hysteroscopy and is a BSCCP certified colposcopist and has also achieved fellowship in minimal access surgery, which involves management of pelvic endometriosis, resections of fibroids and laparoscopic hysterectomies. He has a special interest in recurrent miscarriages and infertility related operations and undertakes early pregnancy and Gynaecology ultrasound.
Most of Mr Shah's operations are performed as keyhole surgeries, with quicker recovery and minimal scars for patients.
Mr Abhijeet Shah has various peer reviewed publications in international journals and speaks at various Gynaecology conferences.