Consultant Profile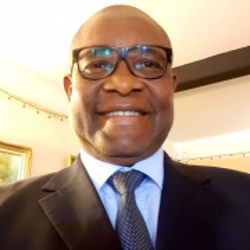 Mr Ike Okorocha BSc (Hons), MB,ChB, FWACS, FMCOG, FRCOG, PG (Cert) Advanced Gynaecological Endoscopy
Practising at: Margate
Specialties: Gynaecology
Special clinical interests: • Colposcopy and Vulval diseases
• Minimal Access Surgery including laparoscopic management of chronic pelvic pain, endometriosis, ovarian cysts.
• Abnormal uterine bleeding and heavy periods including use of various endometrial ablation techniques
• Operative hysteroscopy including hysteroscopic resection of fibroids.
• Laparoscopic hysterectomy, laparoscopic assisted vaginal hysterectomy and pelvic floor repair operations.
Current NHS and /or university posts: Consultant Gynaecologist and Obstetrician
Year of first medical qualification and medical school attended: 1982
Current membership(s) of professional, national and regional bodies: Royal College of Obstetricians & Gynaecologists (RCOG)
British Society of Colposcopy and Pathology (BSCCP)
British Society for Study of Vulval Diseases (BSSVD)
British Society of Gynaecological Endoscopy (BSGE)
British Menopause Society (BMS)
European Society of Gynaecological Endoscopists (ESGE)
American Association of Gynecologic Laparoscopists (AAGL)
Background Information
Mr Okorocha has a broad experience and expertise in all aspects of General Gynaecology. After completion of Higher Specialist Training, Mr Ike Okorocha was appointed a Consultant Gynaecologist and Obstetrician at the East Kent Hospitals NHS Foundation Trust. He has gained further experience and qualifications in both laparoscopic and hysteroscopic surgery and was awarded a Postgraduate Certificate in Advanced Gynaecological Endoscopy by the University of Surrey. He is currently the Clinical Lead for the Rapid Access Gynaecological Services at the Kent and Canterbury Hospital as well as the QEQM Hospital, Margate.
In his spare time, Mr Okorocha enjoys playing golf and chess.