Consultant Profile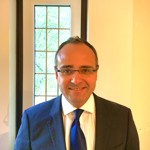 Mr Omar Mohamed MBBCh; MSc (Tr & Orth); FRCS (Tr & Orth)
Practising at: Margate
Specialties: Spinal Surgery
Special clinical interests: Degenerative lumbar conditions, including degenerative disc disease, spinal stenosis, disc herniations and low back pain. Spinal fractures and kyphoplasty. Spinal Instability. Neck and arm pain.
Current NHS and /or university posts: Spinal Surgeon at East Kent Hospitals University NHS Foundation Trust
Year of first medical qualification and medical school attended: 2002, Cairo Medical School
Current membership(s) of professional, national and regional bodies: Royal College of Surgeons of England
British Association of Spine Surgeons (BASS)
Background Information
Mr Omar Mohamed holds the Royal College of Surgeons fellowship. His orthopaedic training took place in United Kingdom and Germany, with specialist and fellowship training in an AO reference centre. He has an active role in teaching at undergraduate and postgraduate levels. Mr Mohamed has published in peer review journals as well as presenting at national and international meetings. His aim is to meet patient's expectations of care and service.
Mr Omar Mohamed competes in horse show jumping on a national and international level. He also enjoys kite surfing in his spare time.