Consultant Profile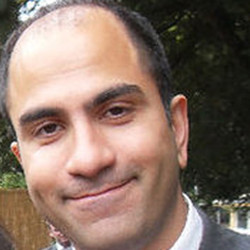 Mr Vikram Dhar BSc (hons), MBBS, FRCS (otol-hns), MEd
Practising at: Ashford
Specialties: ENT Surgery, Minimal Access Thyroid Surgery, Head and Neck Surgery
Current NHS and /or university posts: Spencer Private Hospitals
William Harvey Hospitals
Kent and Canterbury Hospital
Year of first medical qualification and medical school attended: Imperial College, London - 2000
Background Information
Mr Dhar has a busy Thyroid, Head and Neck, General including Paediatric ENT Practice. He has regular operating lists and clinics in all these areas, as well as on-call commitments dealing with a wide range of ENT pathology. He has a broad ranging practice in the NHS and private sector from Head and Neck lumps and nose problems to Children with ENT problems and Ear issues.
In addition to his clinical practice, Mr Dhar is the Royal College of Surgeons Surgical Tutor for the William Harvey Hospital. He is heavily involved in the training of the next generation of Surgeons. His roles at the Royal College and KSS Deanery have involved him in National Recruitment, ENT curriculum development, assessment and appraisal of trainees. This passion for training was reinforced after he was awarded a London deanery bursary enabling him to gain a Masters in Surgical Education at Imperial College, London.(2011/12)
He has published 23 publications and a book chapter, presented nationally and internationally and has organised and taught on numerous courses ultimately focussed on improving the outcomes of his patients.
Mr Dhar regularly attends courses and conferences all over Europe and beyond, learning new techniques and furthering his knowledge. 
Outside of medicine he enjoys time with his young family, travelling, global cuisine and appears to be developing an interest in gardening.