Charity and Fundraising
Each year Spencer Private Hospitals have a nominated charity whom they support by hosting a number of fundraising events and activities. 
For 2022/23 Spencer Private Hospitals chosen charity is Demelza Hospice Care for Children and to kick off the Fundraising efforts our marketing consult TJ has volunteered himself to walk over 50 miles between SPH sites to raise money for Demelza. 
50 Miles in May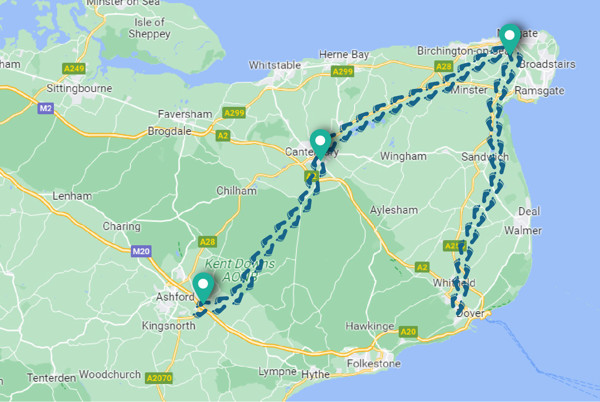 Starting in Dover, TJ's first walk will be to Spencer Private Hospital Ltd's Margate site, located within the grounds of QEQM hospital. On the way he will be making a stop at the head office at Betteshangar Park. Totalling nearly 20 miles, this walk is equivalent to walking up and down the Shard or the Eiffel Tower over 141 times!
The Second of TJ's walk will see him leaving from Margate and making his way to Canterbury, where SPH have an outpatient department located within Kent and Canterbury Hospital. This walk is slightly shorter, only 17 miles, but will bring the total distance to around 37miles, which - did you know - is equivalent to the length of the nerves in your body!
The final walk from Canterbury to Ashford will be the home straight, and upon completion will mean that TJ will have walked over 50 miles, a distance equivalent to walking the length of the Channel Tunnel!
If you want sponsor TJ for his walk and support Demelza you can find a link to the JustGiving page here or use the 'Donate Here' button below.
50 Miles in May in pictures
A selection of Pictures from TJ's '50 Miles in May' in aid of Demelza.
Fundraising
Spencer Private Hospitals have already raised £500 for Demelza, which can be used to provide:
9 music/art therapy sessions
10 hours day care at their hospices
The daily cost of 3 specialist nurses
The daily cost of 5 specialist HCAs
This is just the beginning, with a number of other great fundraising activities planned throughout the coming year 22/23; kicking off with a sponsored walk by our marketing consultant, TJ, in May!