Private Paediatric Treatments & Surgeries in Kent
We understand that if your child needs to visit or be admitted into hospital, it can be a worrying time for the whole family.
That's why we at Spencer Private Hospitals do everything we can to make your child's stay as stress-free as possible. We work with only the most experienced, friendly private paediatricians and children's nurses so that you can concentrate on the most important thing for your child — helping them get better.
We provide comprehensive, expert care for children and young people, and our services include both inpatient and outpatient, covering a range of medical and surgical specialities. From tongue tie procedures to childrens' phlebotomy, children at Spencer Private Hospitals are looked after by specialist staff trained to the highest standards of care. We also have the backup of a full emergency care team.
All of this translates to the ultimate peace of mind for you and your child.
Working with you – keeping you informed
Before your child comes into hospital, we'll send you a special patient information pack. Here, you'll find all the information you need to help you and your child prepare.
We also encourage you to bring your child to visit the hospital before their admission so they can get familiar with their surroundings. They can also meet the staff who will be looking after them, easing any worries you may have ahead of time.
Visiting your child
We have an open visitor policy, so your child can enjoy the comfort and support of having friends and family visit at any time.
Our friendly nurses will be there to answer any questions you might have and to regularly update you on how things are going with your little one.
Most inpatient stays for a child are classed as a Day case and your child is likely to return home with you the same day. On any rare occasion that your child stays overnight, we have a dedicated Paediatric Nursing Team who stay with your child.
Food & drink
To make sure your child is fed and watered well, we offer a special children's food and drink menu that's both nutritious and delicious. You'll never have to worry about fussiness – there's something for everyone. We can also provide food for family members if required.
Dr. Spencer
Dr. Spencer is part of our Paediatrics campaigns, helping children to settle into the unfamiliar environment and rewarding them for being brave.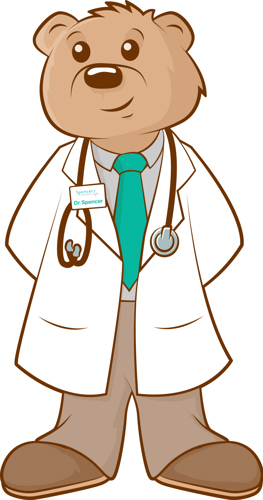 Treatments for children & young people
Our specialist staff and consultants offer a range of tailored private childrens' hospital treatments and care. We offer the following and more:

Contact Spencer Private Hospitals to find out more about what we can treat and how we work!
Preparing your child for a hospital visit or stay
We know that a hospital visit or stay can be an unfamiliar and potentially overwhelming experience for your child. Our priority is to ensure that they feel comfortable, safe, and supported throughout their time with us. To make the process smoother for both you and your child, here are some tips on how to prepare them for their time in hospital:
Open and honest communication: Start by having an open conversation with your child about the upcoming hospital visit. Explain the reasons for the visit or stay in a way that's age-appropriate and reassuring. Encourage them to ask questions and address any concerns they might have.
Bring comfort items: Make sure your child brings a favourite stuffed animal, blanket, or toy from home. Having familiar items nearby can provide a sense of security and normality in an unfamiliar setting.
Stay calm & reassure: Children often take cues from their parents' emotions. Staying calm and positive will help reassure your child and create a sense of security.
Again, remember that we welcome pre-treatment visits to the hospital where you can familiarise yourself and your child with the environment and staff members. We'll happily answer any questions you may have!
Consultants – expert, private paediatricians in Kent