Shockwave Therapy
Soft tissues injuries and tendinopathies account for 30-40% of chronic musculoskeletal disorders in the UK each year. The common tendinopathies involves the plantar fasciitis, Achilles tendon, tennis and golfers elbow, calcific shoulder tendons, patella tendon which presents a challenge to both patients and clinicians.
Spencer Private Hospitals are delighted to announce that we now offer Shockwave Therapy, a new and innovative access to a non-invasive treatment of chronic soft tissues and sport injuries.
Adebayo Tijani, Physiotherapy Manager at Spencer Private Hospitals said: "The answer to people's chronic musculoskeletal problem is here at last."
What is Shockwave Therapy?
The Radial Shockwave Therapy system is seen as a ballistic high energy pulses which results to kinetic impact energy that spreads in a radial manner through the applicator head from the contact area into the desired treatment region of the body, thereby activating the healing process where pain occurs. The system breaks down any scar tissue and calcification in the area of treatment. This in turn activates cell generation and building up new tissue, replicating the body's self healing process.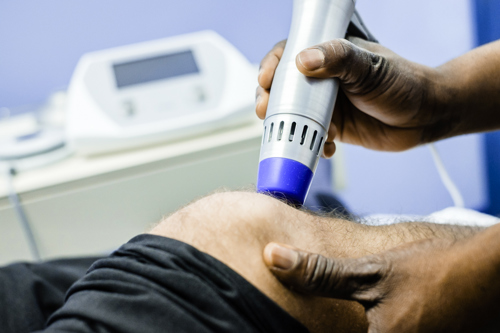 Why use Shockwave Therapy?
Apart from physiotherapy and steroid injections which are not cures, but may help to alleviate the sufferer's pain and problems, surgical intervention has been a treatment option for these debilitating and challenging conditions.
The recovery period for surgical intervention is about 6 - 12 weeks with potential for risk of infection, complication and a limited or average success rate.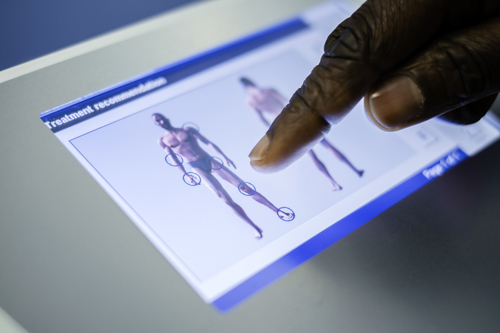 The Shockwave Therapy offers the following:
70 - 80% success rate
Immediate pain relief
Normal functional activities
Non-Invasive
No Anaesthesia required
No surgery
No medication
Converts chronic inflammatory process to acute inflammation from which body heals itself.
Just 3 - 5 sessions of 5 - 10 minutes treatments.
Shockwave Therapy is carried out on an outpatient appointment with our trained physiotherapists.
The Shockwave Therapy treatment is complimented with our specialist physiotherapy service which has been proven to provide increased treatment benefits to patients.
Prior to a Shockwave Therapy session
Prior to a Shockwave session, a thorough clinical assessment is carried out by our specialist physiotherapist or an orthopaedic consultant to ensure the diagnosis is correct and that Shockwave Therapy treatment is most appropriate for your conditions.
To book an appointment, please call 01843 234 555 or e-mail enquiries@spencerhospitals.com  
Contact Us