Risk of sudden cardiac death
Date: 07/02/2017
Dr Konrad Grosser, Consultant Cardiologist, East Kent Hospitals University Foundation trust and also here at the Spencer Private Hospitals explains that screening for congenital heart condition can be life saving.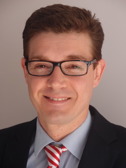 "Whilst cardiac death is uncommon it can strike without warning, and affects elite athletes and ordinary young people alike. According to the charity Cardiac Risk in the Young, each week at least 12 people under the age of 35 die suddenly in the UK from undiagnosed heart conditions, although it believes this may be an underestimate of the extent of sudden cardiac deaths".
Many news outlets have recently published articles relating to sudden cardiac death and that it is estimated that approximately 620,000 people in the UK may be at risk.

The British Heart Foundation is also currently launching a major campaign to raise awareness and further information can be found at www.bhf.org.uk.
The new test, which has been developed as part of a National Institute for Health Research project allows doctors to screen for 200 different conditions in one go and is a simple blood test.
According to Dr Grosser there are many different conditions that can cause an increased risk for sudden cardiac death.
The most common inherited structural heart conditions affecting the heart-muscle are:
Hypertrophic cardiomyopathy where the heart muscle thickens abnormally.
Dilated cardiomyopathy and pregnancy associated (peri-partum) cardiomyopathy
Arrhythmogenic right ventricular cardiomyopathy.
There are also a number of congenital conditions causing an abnormal cardiac rhythm (inherited arrhythmia syndromes).
These can usually be diagnosed by an ECG but occasionally require provocation testing with medications (Brugada Syndrome), prolonged cardiac monitoring (e.g. loop recorder implantation) or cardiac MRI imaging. Examples are:
Brugada syndrome
Long QT syndrome
Catecholaminergic polymorphic ventricular tachycardia (CPVT)
Progressive cardiac conduction defect (PCCD)
The new genetic test allows doctors like myself to intervene in only those who are at risk. In some cases this means lifestyle changes such as avoiding high intensity exercise but other patients may need specialist devices such as implantable defibrillators (ICDs).
For further information please call 01843 234 555 or e-mail enquiries@spencerhospitals.com 

Alternatively please go to Dr Grosser's website at www.kentcardio.com