Consultant Profile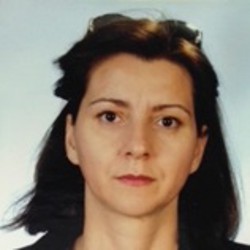 Miss Anastasia Goumenou MD PhD
Practising at: Margate & Canterbury
Specialties: Abdominal and Vaginal Hysterectomy, Diagnostic laparoscopy and dye test, Endometrial ablation, Fibromyalgia, Hysteroscopic resection of polyps and fibroids, Intra cytoplasmic sperm injection (ICSI), Intra-uterine insemination, In-vitro fertilisation (IVF), Laparoscopic hysterectomy, Lymphoma, Ovulation Induction, Percutaneous epididymal sperm aspiration, Testicular epididymal sperm extraction, Tubal Surgery
Special clinical interests: Endoscopic surgery
Infertility
Reproductive medicine
Current NHS and /or university posts: Consultant Obstetrician and Gynaecologist with special interest in infertility and minimal access surgery at the East Kent Hospitals University Foundation NHS Trust
Year of first medical qualification and medical school attended: 1991
Current membership(s) of professional, national and regional bodies: British Fertility Society European Society for Human Reproduction and Embryology European Society for Gynaecological Endoscopy Medical Defence Union
Background Information
Miss Goumenou is an expert in advanced endoscopic surgery for the treatment of endometriosis, adenomyosis, fibroids, pelvic pain, uterine adhesions and ovarian cysts, additionally in outpatient 'office' hysteroscopic removal of polyps, fibroids and endometrial ablation. She also specialises in gynaecological-endocrinological problems such as polycystic ovaries and menstrual disorders.
She has completed the RCOG advance training for infertility and assisted reproductive techniques and has been accredited by the RCOG in laparoscopic and hysteroscopic surgery and gynaecological ultrasound.
Miss Goumenou is a Member of the British Fertility Society, European Society for Human Reproduction and Embryology, European Society for Gynaecological Endoscopy and Medical Defence Union.
Miss Goumenou was appointed as a Consultant Obstetrician and Gynaecologist with special interest in infertility and minimal access surgery at the East Kent Hospitals University Foundation NHS Trust in 2013.