Breast Uplift (Mastopexy)
What is Breast Uplift Surgery?
Breast uplift surgery - also known as mastopexy. Breast uplift surgery reshapes the breast to fix sagginess or downward stretching. Mastopexy is not to be confused with breast enlargement or breast implants, as those procedures are focused on increasing the size of the patients breasts. While breast uplift surgery can make breasts look slightly larger, this is due to the existing tissue being uplifted and less droopy, rather than adding any actual mass.
Our specialists are ready to speak with you concerning an initial consultation and moving forward with the procedure.
If you would like to begin the path to breast uplift surgery, call and book an appointment with our specialists on 0800 882 4879.
If you'd like to get some more information first, try clicking or tapping on one of the links below to jump to the section you want to learn about, or simply keep reading:
Why Do People Have Breast Uplift Surgery?
Is There Any Scarring after Breast Uplift Surgery?
Can I Have Breast Enlargement at the Same Time as Breast Uplift Surgery?
Can You Do Breast Uplift Without Surgery?
What is the Recovery Process for Breast Uplift Surgery Like?
Why do People Have Breast Uplift Surgery?
Through simple ageing, breastfeeding and pregnancy, or even weight loss, breasts naturally sag over time, as the surrounding skin begins to stretch and lose youthful lustre. While considered a taboo in the past, general attitudes towards breast surgery of all kinds are becoming more accepted in society, and breast uplift in particular is one of the most common procedures carried out in the world of cosmetic surgery.  While it is not possible to fully restore the natural fibrous structure of breast tissue, breast uplifting can result in restoring the appearance to a more youthful visage, by removing extra skin, effectively 'tightening' the surrounding tissue and reshaping the existing volume.
Like many cosmetic procedures, the overall aim in performing breast uplift is to enhance the patients confidence and improve their body image. Along with improving the look of a patient's breasts, our aim is to ensure that cosmetic improvements are in line with our patients specific expectations and overall mental health.
Is There Any Scarring After Breast Uplift Surgery?
As with all surgery, there will be resulting scar tissue after the procedure, though of course we aim to minimise the cosmetic effects of this. Every patient is different, but generally, patients can expect red-coloured scarring initially, which will then change to purple, eventually fading to a much paler tone over a period of a year to eighteen months.
We take our patients through a consultation procedure with our specialists, to find out more about their bodies and likely outcomes from breast uplift surgery. If in doubt, our specialists are happy to speak with you to make you fully aware of expected outcomes and address your concerns.
Can I Have Breast Enlargement at the Same Time as Breast Uplift Surgery?
At Spencer Private Hospitals, all of our cosmetic procedures are performed after strict consultation, which means each procedure is tailored to the patient. Ultimately, we aim to give you the body you want and the confidence you desire, and if this includes breast augmentation or enlargement, we will work to develop a path for surgery to meet all your needs. In fact, some patients will have implants recommended if our specialists conclude that breast uplift surgery alone may not result in the desired outcome. As discussed, an initial consultation procedure is the best way to determine what work best suits your body.
Can You Do Breast Uplift Without Surgery?
Science is always moving forward, and there are plenty of experimental non-invasive methods for breast uplift (such as stem cell growth), but so far, studies have found that non-surgical breast lift treatments have been ineffective across the board. However, breast uplift can be performed without implants, which means the loose skin around breasts can be 'tightened' and adjusted, to restore sagging breasts to a natural, youthful look, without the need for augmentation. Ultimately, we want to give our patients more choice in the kind of change they'd like to make, and this includes options for having breast enlargement performed as a part of a wider pathway to change how breasts look and feel.
What is the Recovery Process for Breast Uplift Surgery Like?
Our staff will be on hand to check up on you before, and at intervals after your surgery. In most cases, patients can to get out of their hospital bed on the same day as their procedure, but sometimes we recommend patients stay overnight.
Generally, we recommend avoiding strenuous activities such as sports, heavy lifting or high-impact exercise for a few weeks. For extra safety, even general housework should be avoided, and you should expect that time off from work will be necessary or working from home if you are able.  Extra care should be given to other tasks such as driving (stretching to grab a seat belt may cause aches, for example), so start gently. Our team will ensure you are fully equipped with the knowledge to recover and make you aware of any possible complications specific to your procedure.
How to Make an Appointment with Us
Making an appointment with Spencer Private Hospitals is easy, and our helpful staff will take care of all your needs. We pride ourselves on giving our patients a high level of service and comfort.
You may write to us using our online contact form, or the form at the bottom of this page. Alternatively, you can call one of our hospitals using the phone numbers below to begin your knee treatments at a time and place most suitable to you.
Ashford
01233 616201
Margate
01843 234555
Our Facilities and Amenities
If it is necessary for you to stay with us during any step of your diagnosis or treatment, Spencer's care extends beyond our doctors' offices.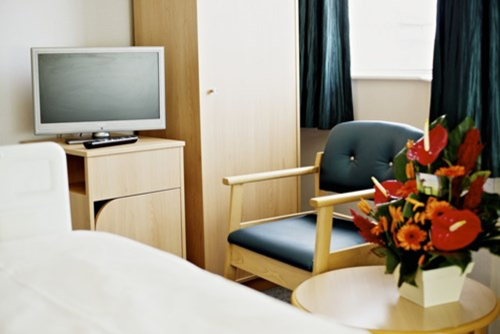 Each private room comes with:
Its own comfortable bed and extra seating
Wifi
Television
Menu choice of food
En-suite facilities