Inverted Nipple Surgery
Inverted nipples (or nipple retraction) are commonly caused by an excess of breast tissue and a tightening of internal milk ducts, which results in a visible retraction of the nipples. Inverted nipples can also be caused by physical damage or trauma, or may even be present from birth. They may appear flat or as an "inny", being quite concave.
No matter the cause, our specialists are ready to speak with you concerning an initial consultation and moving forward with the procedure.
If you are interested in talking thorugh inverted nipple surgery, call and book an appointment with our specialists on 0800 882 4879.
If you'd like to get some more information first, try clicking or tapping on one of the links below to jump to the section you want to learn about, or simply keep reading:
Are Inverted Nipples Unhealthy?
Can Inverted Nipples Cause Pain?
Will Inverted Nipples Affect Breastfeeding?
What is the Process for Inverted Nipple Surgery?
What is the Recovery Process for Inverted Nipple Surgery Like?
How to Make an Appointment
Our Facilities and Amenities
Are Inverted Nipples Unhealthy?
Inverted nipples can be quite common, with anywhere between 15-20% of women experiencing cases of inverted nipples in the UK.
However, are they a cause of harm, or anything to be worried about for any other reason than cosmetic concerns?
The short answer is: Not usually, no.
In most cases, inverted nipples are purely a cosmetic issue, and are not directly tied to any other common health problems. Our specialists will be able to assess each case and highlight any other issues if they areapparent.
Can Inverted Nipples Cause Pain?
In most cases, nipple aches and pains are caused by another health issue, or even pregnancy, rather than a direct cause. If pain persists, seek medical attention.
Will Inverted Nipples Affect Breastfeeding?
While internally, the breast will continue to produce milk and lactate as normal, from a mechanical standpoint, it is possible that a baby may find it difficult to latch onto an inverted nipple, though there are some techniques that can aid in helping the feeding process. It is recommended that you ask any specialists assisting in your pregnancy or raising your new-born about this, as this is a common question and they will be able to help.
It should be noted however that if you undergo inverted nipple surgery, it is very likely you will not be able to breastfeed, as the surgery involves cutting milk ducts. Our staff will discuss this and any other concerns you may have during consultation.
What is the Process for Inverted Nipple Surgery?
Surgery for inverted nipple correction is quite easy for a patient to undergo, due to the small, localised area of focus.
After ensuring that you are happy to proceed and as comfortable as possible, our specialists will make a small incision beneath the nipple in order to cut tissue and milk ducts that are causing the nipple to retract, resulting in the desired protrusion.
Ultimately, we want to give our patients the look they desire, and each step of our process will revolve around making sure you get what you want and ensuring that you are as free from worry as possible.
What is the Recovery Process for Inverted Nipple Surgery Like?
Our staff will be on hand to check up on you before, and shortly after your surgery. Due to the fairly low invasive nature of the procedure, it is very likely that you will be able to go home the same day as the surgery. In the meantime, you will be provided with a comfortable space for rest. Any further assistance you need is simply available by requesting help from our friendly staff. We highly recommend either hiring a taxi, reliable public transport or asking a friend/family member to assist you in travelling back from our hospital as we do not recommend driving yourself after surgery.
As with any kind of surgery, you will experience some bruising and aching, and you will be provided with expert consultation and advice.
You may notice some very light scarring, although it is usually difficult to notice.
Generally, we recommend avoiding strenuous activities such as sports, heavy lifting or high-impact exercise for a few weeks. For extra safety, even general housework should be taken lightly or avoided entirely. You may require some days off work, although the recovery process should not affect your ability to perform basic office tasks too much. if your work involves a lot of movement, heavy lifting or other strenuous tasks, consider taking further time away for recovery.
Our staff will ensure that recovery is as smooth and painless as possible for you.
How to Make an Appointment with Us
Making an appointment with Spencer Private Hospitals is easy, and our helpful staff will take care of all your needs. We pride ourselves on giving our patients a high level of service and comfort.
You may write to us using the form found at the bottom of this page, our online contact form, or alternatively call one of our hospitals using the phone numbers below to begin your treatments at a time and place most suitable to you.
Ashford
01233 616201
Margate
01843 234555
Our Facilities and Amenities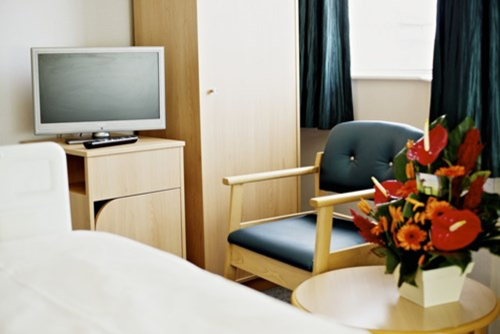 If it is necessary for you to stay with us during any step of your diagnosis or treatment, Spencer Hospital's care extends beyond our consultants' rooms.
Each private room comes with:
Its own comfortable bed and extra seating
Free WiFi
Television
Extensive award-winning food menu
En-suite facilities