Consultant Profile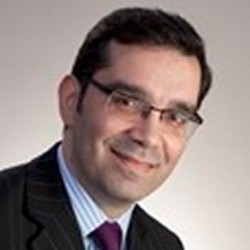 Mr George Tsavellas MBBS (Lond) MS (Lond) FRCS (Eng) FRCS (Ed) FRCS (Gen Surg)
Practising at: Margate
Specialties: Colonoscopy, Coloproctology, Colorectal Surgery, Endoscopy, Gastroscopy, General Surgery, Hernia Repair Surgery, Keyhole Surgery, Laparoscopic Cholecystectomy, Laparoscopic Colorectal Surgery, Laparoscopic Hernia Surgery, Laparoscopic Surgery, Minimal Access Surgery
Special clinical interests: Colorectal cancer surgery, including laparoscopic resections, en bloc multivisceral resections and salvage surgery for recurrent pelvic cancer Colonoscopic screening for bowel cancer Advanced laparoscopic techniques including: Laparoscopic colorectal cancer resections Single Incision Laparoscopic (SILS) cholecystectomy Laparoscopic inguinal, incisional and umbilical hernia repair Surgery for inflammatory bowel disease, including ileal pouches for ulcerative colitis and familial polyposis Surgery for rectal prolapse Anal diseases and complex anal fistula surgery Rhomboid flap for complex or recurrent pilonidal sinus disease.
Research interests: Mr Tsavellas was awarded the highly coveted Master of Surgery postgraduate degree from London University in 2004, for research into bowel cancer undertaken at the Chelsea & Westminster Hospital.
Current NHS and /or university posts: Consultant General Surgeon, East Kent Hospitals University NHS Foundation Trust Queen Elizabeth the Queen Mother Hospital, Margate Kent and Canterbury Hospital, Canterbury
Year of first medical qualification and medical school attended: 1990
Current membership(s) of professional, national and regional bodies: Association of Coloproctology of Great Britain and Ireland Association of Laparoscopic Surgeons of Great Britain and Ireland British Medical Association Fellow of the College of Phlebology
Background Information
Mr Tsavellas was born and educated in London. He qualified in 1990 from Charing Cross & Westminster Medical School. He undertook surgical training on the gold circuit University College and Middlesex Hospitals rotation and subsequently on the Wessex rotation based in the south of England. He also spent two years undertaking cancer research at the Chelsea & Westminster Hospital and was awarded the degree of Master of Surgery (MS) from the University of London.
Mr Tsavellas has been a consultant general surgeon at the East Kent Hospitals University NHS Foundation Trust since 2004. He has extensive experience in laparoscopic [keyhole] surgery for bowel cancer, gallbladder problems and all types of hernia, having performed thousands of cases with excellent results.
In 2008 he was appointed as the clinical lead for colorectal surgery at QEQMH and KCH. Mr Tsavellas' other clinical interests include rectal bleeding and colonoscopy.
Watch Mr Tsavellas on Meridian News, performing a SILS [Single Incision Laparoscopic] Cholecystectomy.