Consultant Profile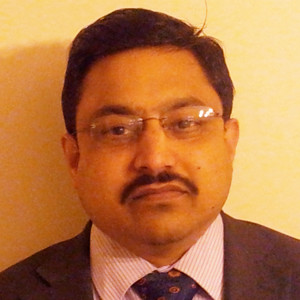 Mr Sathya Murthy MBBS M Ch Orth (L'Pool), FRCS Orth, FRCS Ed, D Orth
Practising at: Margate
Specialties: Arthroscopy, Elbow Surgery, Hip Surgery, Knee Surgery, Shoulder Surgery, Elbow, Joint replacement, Joint replacement: Shoulder, Hip & Knee, Arthroscopic Surgery
Special clinical interests: Arthroscopic surgery - shoulder and knee Compartmental and total knee replacement Reverse geometry shoulder replacement
Research interests: Consultant Orthopaedic Surgeon, East Kent Hospital University NHS Foundation Trust at QEQM Hospital Kent & Canterbury Hospital and Royal Victoria Hospital, Deal
Year of first medical qualification and medical school attended: 1983
Current membership(s) of professional, national and regional bodies: Consultant Orthopaedic Surgeon, East Kent Hospital University NHS Foundation Trust at QEQM Hospital Kent & Canterbury Hospital Royal Victoria Hospital, Deal
Background Information
Mr Murthy obtained a Fellowship in Surgery in 1989, Intercollegiate Fellowship in orthopaedic surgery and Masters degree in orthopaedics from Liverpool University in 1999.
Mr Murthy held consultancy appointments in India, Ireland and Northampton before taking up post in Kent.
He has had the privilege of undergoing advanced training in shoulder surgery under the guidance of two past presidents of the British Elbow and Shoulder Society. As a senior registrar at the Cappagh National Orthopaedic Hospital in Dublin, he has extensive training in hip and knee replacements.
Mr Murthy's sports fellowship training in shoulder and knee injuries for 18 months was at the prestigious Royal Devon and Exeter Hospitals. He completed his training in knee reconstruction and replacement in the professorial unit at Southampton University Hospital.